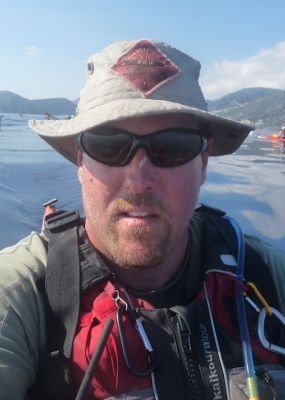 I was born in Providence, Rhode Island, and grew up in a small island town called Portsmouth. After a brief military service and a stint studying geology at the University of Rhode Island I moved west looking for adventure. Settling in Ward, Colorado, I started a love affair with the mountains.
I started working on trail crews, building and maintaining hiking trails in the Boulder County area and worked my way up to supervisor after a few years. I took a Wilderness First Responder course and got certified as a Trip Leader with the National Outdoor Leadership School and went looking for work as an assistant to an experienced mountain guide.
Unable to find paid work in the USA, I then traveled to Chile, where I found work as a mountain guide in Pucon and San Pedro de Atancama. I spent a thoroughly enjoyable year working there and then worked my way north to Sorata, Bolivia, where I worked for another year, which was an amazing experience. Whilst in Bolivia, I injured my knee and went looking for another outdoor adventure activity, which brought me to Sea Kayaking.
I had my first sea kayaking jobs in Rhode Island but have to credit Tom Burgh at Maine Island Kayak Company for teaching me seamanship and leadership skills. I have now been a sea kayaking instructor for 18 years.
I have worked extensively throughout New England, the Caribbean, Majorca, Tunisia, Malta and now Sardinia.
I am a Coastal Sea Kayaking Instructor and am certified as a trip leader with the American Canoe Association.
Also, I hold a 5 star award and a level 3 sea coaching qualification with both the British Canoe Union and the Malta Canoe Federation.
I established Sea Kayak Sardinia in January 2010 as I saw a tremendous opportunity for sea kayaking along this wild and underdeveloped coastline and hope to share this experience of paddling Sardinia until I can no longer lift a paddle.